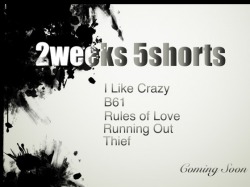 A message from a good friend:
Dear friends and family,
We are preparing to launch our latest project, "2 Weeks 5 Shorts". Over the course of a two week period we plan to shoot five films all with the same crew of film professionals rotating positions. We would greatly appreciate your help to get this project off the ground. If you could take a quick moment and check out our kickstarter page, we would be eternally grateful! When you're done, pass it on to your friends, family, anyone whom you think would want to be a part of our project.
What is Kickstarter? Kickstarter is run through Amazon so if you have an Amazon account you're halfway there. All you have to do is go to the page and click on "BACK THIS PROJECT." Amazon will then take your pledge and will not charge your credit card unless we get full funding for the project ($20,000). Some of you may not feel comfortable with this method of payment so for those of you that wish to support us but do not want to go through Kickstarter, please feel free to write us a check made out to "Starr Films Ltd." You will still receive the same rewards as are being offered through Kickstarter. Just click on the link and it will tell you what to do from there!
Thank you all in advance for your generosity and support.Let's make movies together!
Best regards,
The "2 Weeks 5 Shorts" Creative Team
https://www.kickstarter.com/projects/1338906185/2-weeks-5-shorts